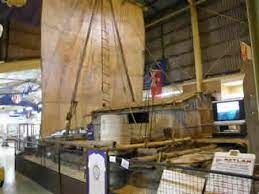 PRESS RELEASE
FOR IMMEDIATE RELEASE
Headline:
Ballina Naval & Maritime Museum to Commemorate the 50th Anniversary of the La Balsas Expedition
Subheadline:
A Day of Celebration and Learning Awaits as the Museum Honours a Historic Journey
Ballina, NSW, Australia – 20 October 2023
The Ballina Naval & Maritime Museum is proud to announce a special event to commemorate the 50th Anniversary of the La Balsas Expedition. The event will take place on 28th November 2023, from 11:00 AM to 2:00 PM at the museum premises, 8 Regatta Avenue, in Ballina, NSW.
Event Highlights
Honoured Guest: Fernard Robichaud, one of the crew members will be here on the day. Meet Fernard Robichaud: A Living Link to the La Balsas Expedition
Guest Speaker: A distinguished maritime historian will provide insights into the La Balsas Expedition, its challenges, and its historical significance.
Local Ballina Band: Live musical performances will add a festive touch to the event.
BBQ and Refreshments: Attendees can enjoy a sumptuous BBQ spread.
Gold Coin Admission: A minimal admission fee contributes to the museum's educational programs.
Cake Cutting: A specially designed cake will be cut to mark the anniversary.
Souvenirs: Exclusive keepsakes commemorating the event will be available for purchase.
About the La Balsas Expedition
The La Balsas Expedition was a historic journey that took place in 1973, featuring a multinational crew that sailed from Ecuador to Australia on balsa wood rafts. The expedition stands as a testament to human courage, resilience, and international unity.
About the Ballina Naval & Maritime Museum
The museum is home to a full-scale replica of the La Balsas Raft, complete with a digital screening that brings the expedition to life. The museum also features a range of other maritime antiquities.
Media Contact
Richard Greaves
President of the Ballina Naval & Maritime Museum
8 Regatta Ave Ballina NSW Australia 
END